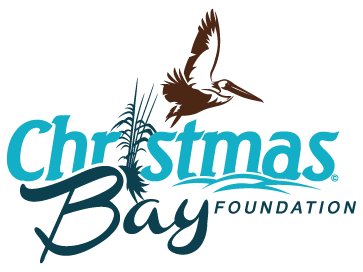 The Christmas Bay Foundation was formed to insure the interests of a little known treasure of the Texas Gulf Coast: Christmas Bay. The Christmas Bay Estuarine System and its tributaries is the most pristine bay system of the upper Texas coast, and a vital part of the ecology of the Galveston Bay system, with hatcheries and nurseries for marine life and bird sanctuaries.
The Christmas Bay foundation is dedicated to promoting and preserving this, and other, important natural resources through educational and conservation events, activities, and outreach. Concerned citizens, fishers, and boaters, will be recruited for support with contributions for ongoing and future projects, keeping a watch on the Bay to protect it from polluters and harmful activities, and join in cleanup projects, such as removal of abandoned crab traps and debris. Land around Christmas Bay will be secured to protect against intrusive and harmful development. One of the most important parts of our mission is educating future generations on the importance of preserving the remaining coastal habitat.
Christmas Bay has much to offer as a recreational spot, with fishing, kayaking, birding, and more. The Christmas Bay Foundation enthusiastically supports such responsible recreational use, with an eye to protecting and having minimal impact on the ecosystem and its natural beauty. Commercial and residential development in the area must only proceed at a proper distance and with respect to conservation of the Christmas Bay Estuarine System. Join us in our efforts to spread the word about, and protect for future generations, the wonders and beauty of Christmas Bay.